The study program for Peer Support, is the first program at KBT Vocational School.
During fall 2019, the Competence center for lived experience and service development (KBT) got accredited vocational school education. The school is accredited by NOKUT (the Norwegian Agency for Quality Assurance in Education). The education gives a certificate with 60 ECTS credits. Students who complete the courses will therefore get merit and admission into higher education.
The study program at KBT Vocational School is the first peer support education in Norway linked to the ordinary educational system. In 2020 the vocational school welcomed its first students, and most of the class examined in autumn 2021. We want to be flexible, and the students may choose to take the program part time, over two years.
About the study program
The education program provides both theoretical and practical competence based on the use of personal experience in helping and empowering others. The education are mainly web-based, and we have students from all over Norway. Every semester, we have 2 seminar weeks, where some of the students travels to Trondheim to participate physically. During the course, the students will have 2 internship periods and 3 theoretical subjects.
At class, we have a various range of teaching activities:
Group supervision
Lectures
Group work
Plenary discussions
Role play
Case assignments
Exchange of experiences
Form of assessment: folder exam, grading scale in theory subjects, and «passed», «not passed" of internship periods. The learning process are in focus.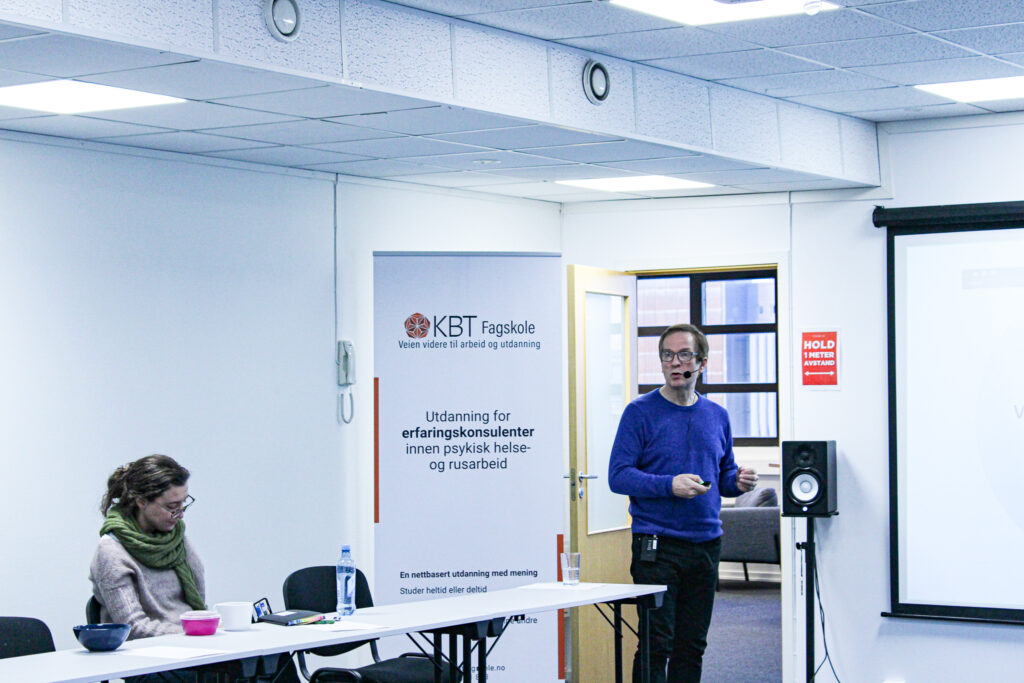 Teachers and lecturers
The teachers at KBT Vocational have various background, and we have both internal and external persons teaching the classes. We have lecturers with
Personal experience
Next of kin experience
Academic background (theory, perspectives, research)
Academic education (pedagogical, sociology, organisational knowledge, political science)
Educational frame
Recovery as an professional ideology
Emphasizing dialogue and reflection between student, school contact, practice supervisor
Providing both theoretical and practical competence based on the use of self-experience
To qualify people who have self-experience within receiving health and welfare services in mental health and substance abuse, to be able to apply their experiences in work with other service recipients
Educational aim
Strengthening peer workers identity and professional role
Understanding the position of peer workers better
Be aware of own competence
Clarify and develop the role of peer workers
Achieve recognition
Get possibilities to move further with education
What type of competence do you get?
Cognitive, social, functional and meta competence
Experience from the field he or she will work in
A positive view of people and attitudes that all people are equally valuable
Knowledge of how the health and welfare system works formally, legally and practically
Relationship competence in the form of the ability to establish and build relationships, as well as lead conversations in different situations
Ability to reflect on one's own and others' role, both in relation to function and ethical dilemmas and issues
Read more about the learning outcomes
Admission requirements
When you apply for the Peer Support ecucational program, we look at 2 things: your educational background and your experience from the field. In Norwegian the last is called «realkompetanse», and can be translated to non-formal skills. That means, that even though you haven't fulfilled Videregående skole (High School), you have a chance to get in. Summarize, this is the admission requirements:
Formal admission requirements
Vocational education build on level 4 competence in the National Competence Framework (NKR)
Based on certificates as a health care worker at upper secondary level or equivalent competence
Assessment of Prior experiental learning
Applicants who have not completed upper secondary education
Applicants who have an education from countries other than Norway, and who are 23 years or older in the year of admission
Need to show documented knowledge, skills and general competenc through formal and non-formal education